I am one of the many, many bloggers taking part in Holly's Horrorland Vampire's Day Soiree today! First of all I'd like to wish everyone a happy Valentine's day, and hope you have a little better luck than me (the boyfriend is sick, so it'll be takeaway tonight rather than the date we were planning XP). Anyhoo, the Vampire's Day Soiree is an alternative Valentine's Day event for us bloggers, and you don't win any prizes for guessing the theme...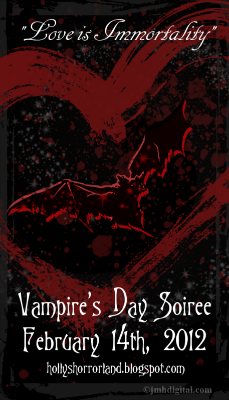 For my vamp-themed V-day post, I'm going to cover vampire romances (of course!), specifically ten vampire or vampire/human couples from the world of fiction (movies, TV and books) whose stories I could recommend sinking your fangs into... yup, cliches galore...
Eve Rosser and Michael Glass (The Morganville Vampires by Rachel Caine). Goth girl meets ghost-turned-vampire hottie musician. I personally love the Morganville series; yes, they are a bit cheesy but I'm a self-confessed Rachel Caine addict and it's impressive when a young adult vampire series can keep going for so many volumes without losing any of its pace or sparkle.
Sookie Stackhouse and Bill Compton (True Blood by Charlaine Harris). My friends and I are all addicted to the TV series of True Blood, but I really enjoy the books just as much, if not more. The course of love certainly does not run smooth for Sookie and Bill (and ends in disaster, in fact...) but as the telepathic-waitress/brooding vampire relationship is the catalyst that, essentially, sparks all the action that is to follow, it deserves a mention.
Buffy Summers and Angel (Buffy the Vampire Slayer). Old, yes, but Buffy won the hearts of teenagers of my generation everywhere and still remains my favourite slice of comfort TV. Angel, despite not being my favourite vampire bloke from the show (Spike, your black nail varnish and sexy cheekbones clinched it for me), provided a conveniently broad-shouldered, leather-jacketed portion of angst. Who didn't shed a tear when Buffy had to send her 'one troo wuv' to the depths of hell?
Selene and Michael (Underworld). Ice queen vampire Selene meets her match in the human Michael when she discovers him being tracked by her kind's sworn enemies, the lycans. Of course, Michael becomes a lycan-vampire hybrid by the end of the movie, which makes their forbidden relationship a touch complicated.
Kerry and Ethan (Companions of the Night by Vivian Vande Velde). Sixteen-year-old girl meets handsome vampire stranger at the laundromat. As you do.
Count Dracula and Mina Harker (Bram Stoker's Dracula). Another film remake of the quintessential vampire tome, Gary Oldman's Dracula proves irresistable to the swooning Mina. And there was me expecting the ending to match that of the book. Silly me...
Etienne Argeneau and Rachel Garnett (Love Bites: Argeneau Vampires by Lynsay Sands). Incidentally, this book was a present from the boyfriend. Cute vampire fluff, played for laughs not thrills and chills, and none the worse for it. Etienne is the hapless but hunky vampire looking for a soulmate, Rachel the confused vampire fledgling in his care.
Raven and Alexander (Vampire Kisses by Ellen Schreiber). On the subject of fluff, another Goth-girl-meets-gorgeous-vampire romance series. Not for the serious-minded but great fun for younger Goths and packed with band-name-dropping and black lipstick.
Effie and Alucard (the Brenda series by Paul Magrs). A VERY unconventional relationship from the master of offbeat black comedy. Effie, an old lady living in Whitby, is besotted with the slightly sinister Kristoff Alucard, who prefers a nice warm jugular to a cup of tea.
Drusilla and Spike (Buffy the Vampire Slayer). Probably the vampire couple that most appealed young Gothy fans of Buffy; the dark and deranged Drusilla had her perfect counterpart in bad boy Spike...
Now come along to
Holly's Horrorland
to meet the other bloggers participating in this soiree...
Dru and Spike <3